Wonu Veys travelled to Australia as part of an international collaborative project entitled Globalization, Photography, and Race: The Circulation and Return of Aboriginal Photographs in Europe. She has worked extensively with the photographic collections found within the Musée du quai Branly, but more specifically with pictures from the Museum of Ethnology.
The following is a blog account of Wonu's travels that have been translated from Dutch to English.
Recent research in Numbulwar, Arnhem Land, Northern Territory (Friday, February 14th, 2014)
The Museum of Ethnology preserves in its collections a total of 470 photographs taken by Alex van der Leeden during his fieldwork in Numbulwar from January 29, 1964 until January 29, 1965.
It turned out that Professor Victoria Burbank from The University of Western Australia had worked with the Numbulwar community in 1977. When I arrived at UWA a meeting was arranged for me to meet with Victoria. This was a fantastic interview where she was incredibly generous with her information, and gave me a lot of tips and names of people I could contact the ground.
Although Burbank's research was focused more so on the situation of women in the Arnhem Land communities – she thought it would be very valuable sharing our photo collection to the entire community. Professor Burbank certainly helped me to prepare for my trip to Arnhem Land.
During our meeting, she could confirm for example, that attitudes to show pictures of deceased relatives to Aboriginal people no longer had the same concerns today as they might have in decades past. In fact in 2007, members of the Numbulwar community were shown pictures of a relative that had passed only two months prior and were received without problems.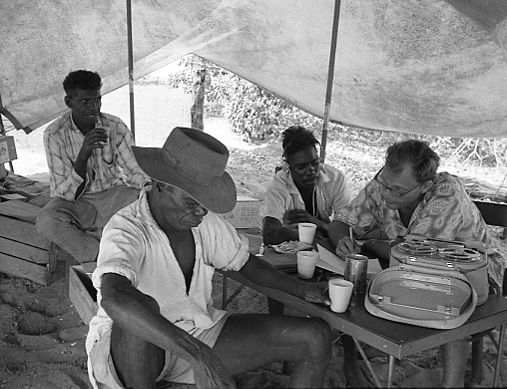 The port city of Fremantle (Saturday, February 15th, 2014)
Before I flew out to Canberra from Perth, I decided to visit the port city of Fremantle. The historic town is half an hour from Perth and dates back to 1829. The village style atmosphere is in contrast to Perth a houses a large number of historic buildings and quaint shops.
Whilst there I visited the historic Fremantle Market that offers a wide selection of jewelry, leather, honey, bread, fruit and other foods and went to Fremantle Oval, the home of the Bulldogs, the Australian football team which consists of eighteen members. I was even able to visit a fortune teller at City Hall and for the cost of $60 was told of my possible future.
Also towering above the city skyline sits Fremantle Prison. It is famous not only for its history as a prison from 1850 to 1991, but received a UNESCO World Heritage status from 2010.
Sunday in Canberra (Sunday, February 16th, 2014)
Canberra, the Federal Capital of Australia, is the home of the Australian Parliament and all national institutions such as the Australian National University (ANU), the National Art Gallery of Australia, the National Library, the National Museum of Australia, and so on.
The American architect Walter Burley Griffin designed the city with a tight geometric plan in the early twentieth century.
Canberra is not really a city for pedestrians. Nevertheless, I went to the National Gallery of Australia where there is a beautiful Aboriginal and Torres Strait Islander Wing and is furnished with pieces from their contemporary art collection, apparently the largest in the world. One of the highlights is The Aboriginal Memorial created by the Arnhem Land artists from the Northern Territory.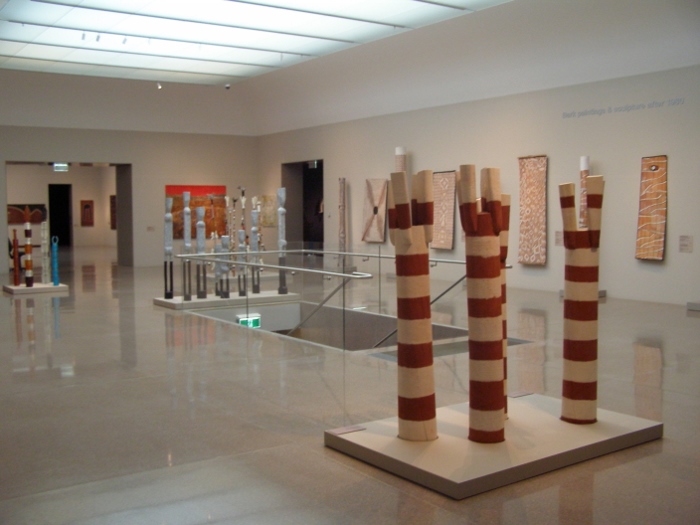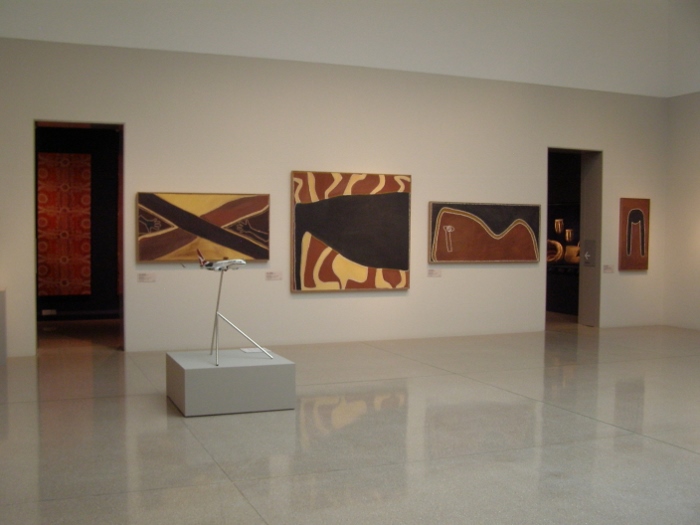 Australian Institute of Aboriginal and Torres Strait Island Studies (Monday, February 17th, 2014)
On Monday I had a meeting with the Australian Institute of Aboriginal and Torres Strait Island Studies (AIATSIS). As mentioned earlier, the Dutch anthropologist Alex van der Leeden had a collection of 470 black and white photos, as well as 75 objects and made several recordings during his fieldwork in 1964-65 in the Numbulwar community, Arnhem Land. I wanted to compare our photo collection with the collection housed within AIATSIS.
The Australian photo collection was not as detailed in their information as our collections were, but I did make some interesting discoveries. Some photos I could not view. They were covered by a paper, which was labeled "restricted men's ceremonial" (restricted, men ceremony). As I had similar photos that I had brought from our collection, I knew that I had to deal carefully with some of the images that may be considered to be 'restricted' material.
Today, it is very common in Aboriginal communities that when dealing with images and information pertaining to secret / sacred ceremonies or objects special permission must be sought from the relevant knowledge holders or communities to get access. Now I know that I must deal will gently with a dozen photos when I have to ask you also to share with other members of the settlement of these pictures the permission of an elder "(an older man) numbulwar am and probably first.